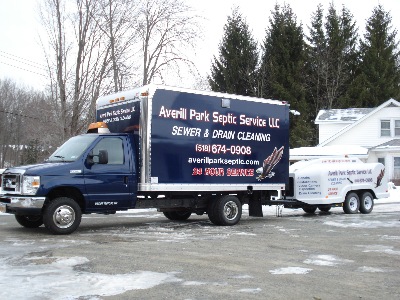 Delivering Freedom
from clogged
sewer & drain lines!

Clogs Happen . . . and unfortunately, they never happen at a good time. The cause of a clog can vary greatly. However, no matter the cause you can depend on A.P.S. Sewer & Drain Cleaning, a specialized division of Averill Park Septic Service, for all of your sewer & drain cleaning needs.

We have the tools and technicians for any drain cleaning job. From residential to commercial, we have the experience to get the job done.

Our hydro-sewer cleaning equipment can clear any line from 1" diameter and up. Additional options are available for smaller lines. Food, grease, waste, tree roots or any other culprit (even children's toys) are no match for our machines. This service is environmentally friendly, unlike harsh liquid drain solutions that seldom work.

Afraid your pipe may be broken? Ask about our camera/video line inspection services. We can show you exactly where your problem is without digging up your yard.

Think your leach field is the problem? In applicable situations, we offer a hydro-cleaning and vacuum combination to refurbish clogged leach lines.

All too often we hear stories of homeowners who had hired a company to unclog their line only to find that the real problem was an overfull septic tank. Since our company is a complete "One Stop Shop" for all of your septic, sewer & drain needs, we can provide more than just a diagnosis or temporary fix to your problem. And, in addition to convenience, you'll save money by not having to hire multiple contractors to get the job done.

When you call A.P.S Sewer & Drain Cleaning for your drain problem, our 3rd and 4th generation plumbers will be willing and able to provide their expertise in solving it. Quality work is our specialty and with 24 Hour Emergency Service, we are there when you need us!